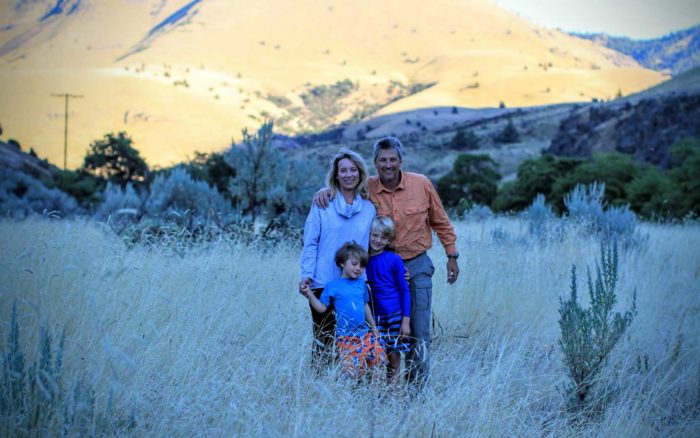 My husband and I received a 14' NRS whitewater raft as a wedding present. The gift was perfect for us. Our love story began in a raft on a fast flowing Wild & Scenic river.
My husband was a raft guide for Oregon State University, although a stranger to me at the time. I was an outdoor girl looking to ditch the college parties and restore myself through adventure.
I signed up for a Halloween Day raft trip. He was the trip captain. (Spark, not spook!) It poured rain but we didn't care. A romance was born and eventually a family–a river family.
Fast-forward 20 years and dozens of North American rivers trips later, now we prepare to take our two river-loving sons, ages 5 and 8 down the Wild & Scenic Upper Deschutes River for four days with my dad–the one who gave us the raft.
It'll be a family full circle moment. One we've had before.
My husband grew up rafting this section with his family. I was on it as a young person, too. We've rafted it more than a dozen times as adults and several of those times with our kids, my dad and other family. So we have traditions, like cooking paella in camp, water gun fights, the fake rubber rattlesnake, and jumping off of jump off rock. While those are all fun, it's the time to just be together for days on the river without modern distractions that nurtures relationships in new and surprising ways.
Rivers transport us to a place where meaningful connection is more possible.
There are boisterous group conversations in camp chairs and quiet pondering as one group member strums his guitar. At night, kids wear headlamps and map stars in the sand with sticks.
There is the collective manual work of camp, which puts us together as we connect with the kinetic basics of life.
Of course, there's the time in the raft to yip and yaw through the rapids.
Osprey sightings, fish jumps, the many colors of river rock, the scene changes every year. In fact, every moment is new on the river as the next quantity of water rushes in to replace the amount that just flowed by. As generations together on the river, we are active participants in taking that all in.
In addition to being with family, I get excited to ditch the modern stuff of life like I ditched bad parties in college. Rafting the Deschutes gives me time to reconnect with myself.
Of course, I connect with the cute trip captain, too!
These reasons and more are why we repeat the trip again and again.
Thanks to the Upper Deschutes and its designation as a Wild & Scenic River, we board our raft like a spaceship and blast off to the constellation of river rock, flowing water and human connection.
To boldly go where no man…(just kidding, obviously that's taking the metaphor too far).
Rivers connect families.