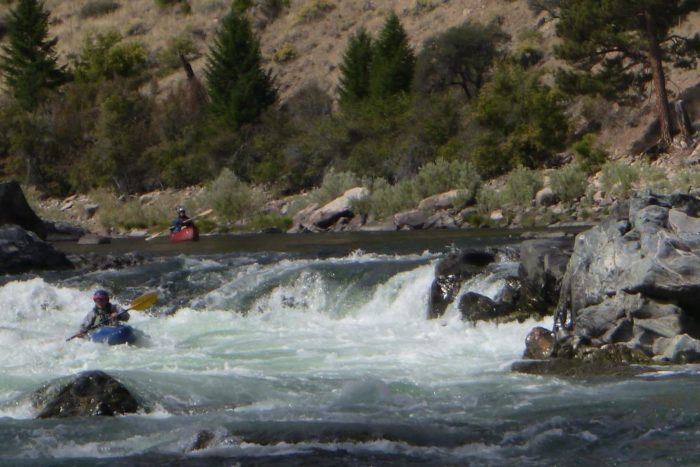 How can I begin to talk about my "true love"? I fell in love with the Middle Fork of the Salmon 17 years ago, on my first journey down this river and my first ever multi-day river trip. It all started with a co-worker friend inviting me on a trip he was helping organize. The only catch is I did not know how to boat whitewater yet. I had been on guided day trips on the Nantahala, Ocoee and New River Gorge back East, just not on a private trip. Luckily, I met an amazing woman the prior summer, who became a kindred spirit. She was taking her boat the "Heron" on this Middle Fork trip with her boyfriend. Crazy enough, when I wrote her a handwritten letter asking if she had room on her boat for me, she said "yes!" Now I only had to get the week off from work. My supervisor had been down the Middle Fork, therefore it proved easier than anticipated. By the end of the trip, I made so many new friends and knew I would return. I even learned how to paddle a tandem inflatable kayak. My friend and I vowed to return each year. It worked for 2 more years. She was able to do it many more times than me.
I even found my other true love on the Middle Fork, sort of. He was one of the river rangers on the Middle Fork for 17 years. After that fateful river trip, I got a job on the trail crew for the Salmon-Challis National Forest working on the Middle Fork trail. I met him via this job since he knew my kindred spirit, and he worked for the Salmon-Challis National Forest, too. He eventually taught me to hardshell kayak, even though it still terrifies me after all these years.
This river trip changed me. I will always love the Middle Fork of the Salmon and keep returning to it. It needs more help than ever with all the funding cuts from our current government. I have been working for the Forest Service on the Middle Fork as one of the river rangers for the last fiver summers. It is my "dream job." Ironically, for the 50th anniversary of the Wild and Scenic Rivers Program, the Middle Fork rivers program will probably have the smallest budget due to funding cuts. Please help protect this magical river! I believe everyone should get to experience this beautiful place.