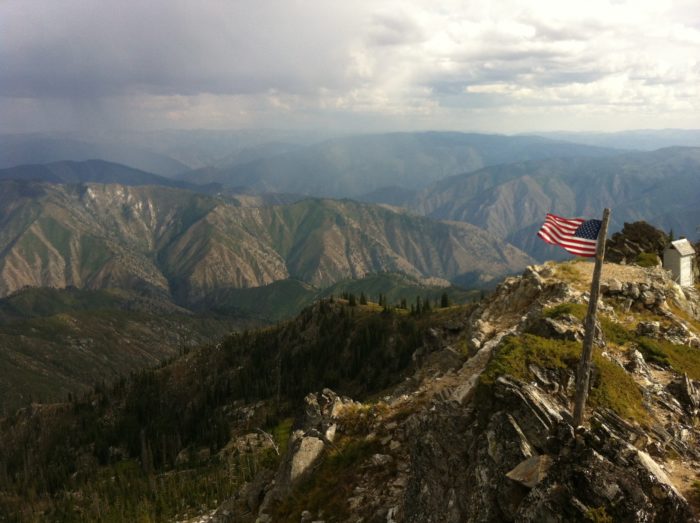 I keep on trying to get away from this river. It's too damn hot and it's too damn steep. The main section of the Salmon River, where the Wild and Scenic designation flows through the Frank Church Wilderness area, cutting a deep gash onto the landscape, was first introduced to me when my father took us rafting down it way back when I was a child. My father was an avid kayaker in his youth and when my oldest brother found his love for rivers, he became a boater as well, carrying on the tradition. These days, we float the river with my brother at the lead.
These are the easy times. When you're on the river along for the ride on the oar boat being taken by the current downstream allowing you to be distracted and in awe looking up at the high river breaks above you on either side of the bank. When you get slightly uncomfortably hot, you simply went through the next rapid while clutching your beer and get splashed by the large wave trains. Those parts were easy for me, I wasn't at the helm, I just held on while laughing and streaming.
The harder parts are when you do not have the luxuries of cool water, cold beer, or a boat for transport. Those parts I came to know fairly well once I began to do conservation and trail work for the Forest Service around the same area. This work had me experience the rugged side of the Salmon River. It had me spraining ankles as I side-hilled across the breaks country well above the river carrying a four-gallon spray pack looking for noxious weeds to treat. On multiple occasions, the Salmon had me hike down 6000 vertical feet from Oregon Butte Lookout above the breaks down to Shepp Ranch at the banks of the river with tools and backpack only to turn around and hike right back up. The Salmon left me dehydrated, paralleling the river along the crappy trail humping a chainsaw over my shoulder as I watched boaters down below crack open another beer.
But somehow, I keep going back to the River of No Return. I return to the banks to see the shimmering green water. I return for the sound the whitewater makes as it carves its course. I return for the quiet and solace wilderness. I return for the beautiful landscape I witness each time I descend from up high and travelling up its tributaries. I return for the sun, creeping over the horizon upstream each morning. I return for the people I have come to know who call the Salmon country their home. And maybe, I return because I am a total masochist.