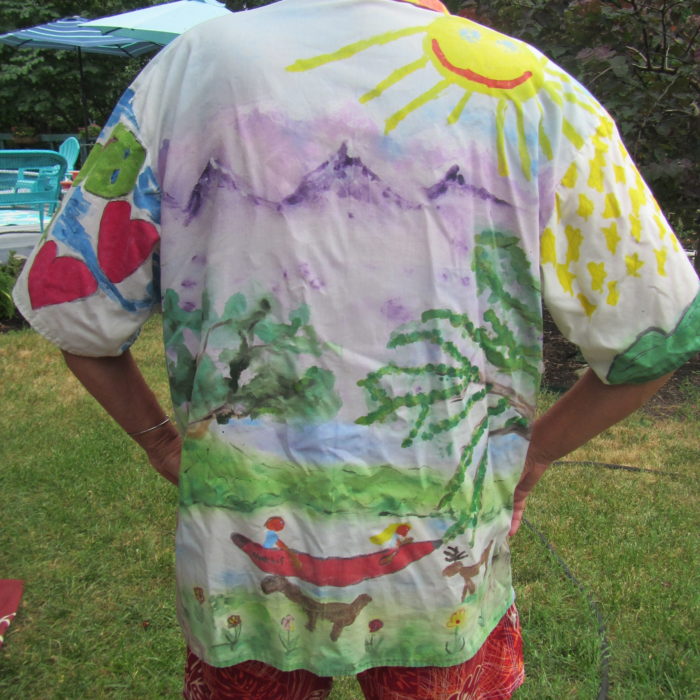 The best Fathers Day gift I got was the shirt on my back. I turned 60 this year and have been canoeing Missouri's rivers since I was 13. When my daughter was 6 years old she and my wife made me a shirt for Fathers Day. The shirt is hand painted by my daughter and reflects her view of the outdoors and her world at that age. She went on her first canoe trip in 1985 at 15-months old and has been at it ever since as the opportunities allow. The shirt has been on every river trip I've taken since that Fathers Day in 1990. The photo is the back of the shirt which depicts our Old Towne canoe named "The Woodchip", which was also my daughter's nickname.
In addition to rainbows, clouds, a smiley sun, turtle and other wildlife she drew on the shirt she also drew herself climbing an Ozark river bluff which was a standard skill building and exploring activity along the rivers for us. At last count, the shirt had been on 15-different rivers in 7-states including a Grand Canyon trip in 2016. Just last month our family vacation was on the Yampa and Greene River thru Dinosaur National Monument. I'm pretty sure these rivers were honored to be the newest additions on the list to meet my shirt.
My shirt even went international on a trip to the Boundary Waters a few years ago. While my daughter now lives in Florida and does not make every river trip with us these days the shirt is standard canoeing equipment and does not miss a river trip. While Tera (daughter) cannot be with us on every trip, the shirt is a fun reminder of the many weekends, holidays and vacation trips we have all shared on many rivers over the years while she was growing up. We look forward to many more wild & scenic river adventures with the shirt in the years to come.