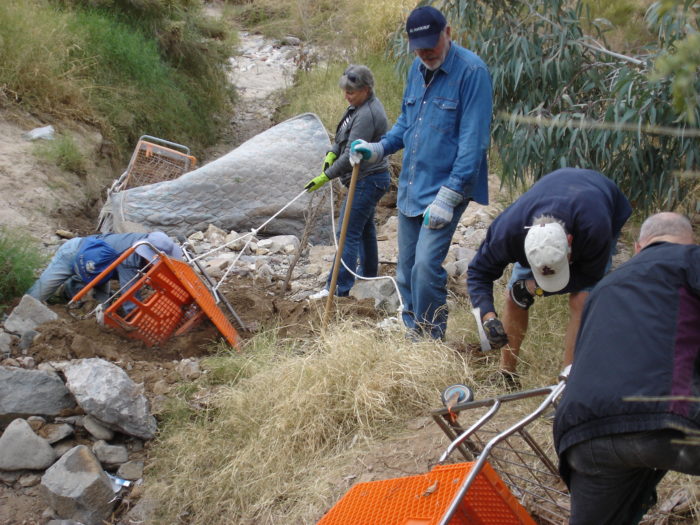 When my wife and I retired in 2014 and moved to a 55+ mobile home community situated next to the Pantano Wash, a large wash (a river during Tucson's monsoon season), I was delighted to find a bicycle path (called The Loop) that bordered the wash. The wash, when not flowing, has trees, shrubs and even cactus from bank to bank and serves as a wildlife corridor for our native javelina, coyotes, bobcats, raccoons, rabbits mountain lions (cougars) , birds including large ravens, hummingbirds, hawks of various kinds, finches, and numerous other species.
Under both the Broadway bridge and the Speedway bridge are a large population of Mexican Free Tailed Bats, a migrating bat which flies out at sunset to catch its evening meal ( a sight worth seeing as the population under the Broadway bridge numbers in the thousands).
What I was not prepared to see was the incredible amount of trash in the bottom of the wash which included shopping carts, abandoned homeless encampments with the usual sleeping bags, apparel, plastic bags and bottles and incredible numbers of tin and aluminum cans.
I was shocked. And also extremely embarrassed to think that visitors from all over the US and Canada who came to spend the winter at the RV resort next door would be bicycling along this path. This became the start of a group that I named "Friends of the Pantano", dedicated to the cleaning of this waterway.
I immediately posted a flyer asking for volunteers in both the offices of our mobile home park and the RV resort next door. Our first group consisted of about 15 senior citizens and after 4 hours of digging up shopping carts and piling up trash we began to realize what a massive undertaking we had started.
The next day our group had dwindled to 6 or 7 due to muscle aches and joint dysfunctions. At this point I came to the realization that we might need more help than the die hard senior citizens provided so I contacted Tucson Clean and Beautiful, a non-profit group that works close with both the city and Pima County. They were excited to work with us and provided gloves, trash bags and other items. More importantly they arranged for all the trash we had collected to be picked up by Pima County backhoes, and dump trucks. They also provided for a legal Right-of-Entry permit and put me in touch with another hard working group called the Arizona Conservation Corp. This group of about 15 summer-help twenty somethings helped us tremendously. Through a personal friend at a nearby church (Christ Community) we utilized the hard work of their youth group for 2 days. We also garnered supplies such as water and ropes from the local Home Depot which also borders the wash.
All in all, over a period of about a year and a half, and down the length of a mile and and half, we removed approximately 75 shopping carts, and 6 to 8 large truckloads of trash. Unfortunately Pima County Regional Flood Control District has rescinded our Right of Entry into the wash and we are currently unable to continue to maintain the wash. However, those who worked on this project have been left with new friendships and a sense of satisfaction when they think of their accomplishment.