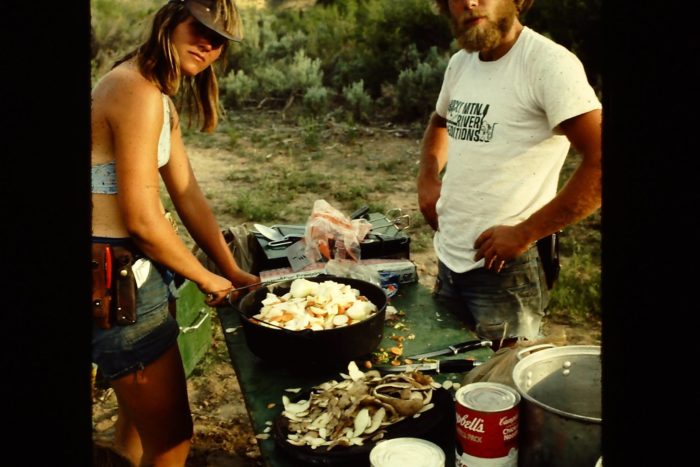 Chris Raffin, seen here in a river kitchen, was a pioneering young river guide during the 1970's. She logged miles on the Yampa, the North Platte, the Upper Colorado, Cataract, Arkansas and the Dolores River. At the time it was standard for river guides to have nicknames, Chris's being more unique than others in her crowd: Chicken Raper.
Chris was ultimately bestowed the highest honor of any river runner by having a rapid named after her and was later inducted into the Boatman's Hall of Fame. In May of 1975 Chris was guiding with a company contracted to conduct a Wild and Scenic Study Trip on the Dolores, the first river in Colorado to be studied for inclusion in the National Wild and Scenic Rivers System and among the first in the Nation. She was guiding a paddle rig with BLM and Fish and Wildlife staff through the largest rapid on the Dolores: Stateline, a class V. One of the BLM guys had fallen out on the upper section insuring a life threatening swim, Chris was able to fetch the swimmer and successfully navigate her team through another mile of difficult water to safety. It was her first time running Stateline.
Since then, the rapid has become increasingly known as Chicken Raper. For us the name is a melding of heritage and history. A badass young woman riding a once wild river. A river nominated but never designated for inclusion in the NWSRS.
Chris Raffin lost her life to cancer in 1983. The same year the Dolores was dammed by McPhee reservoir.