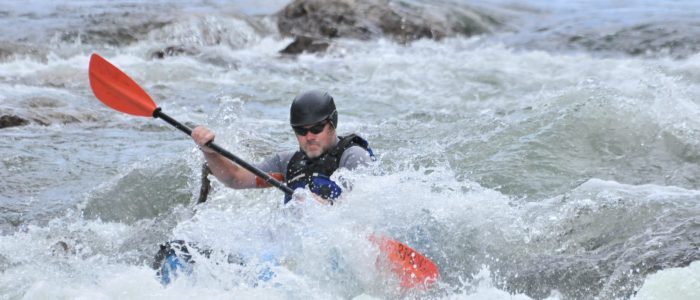 When I think of a river, I think of the sound of moving water.
For me, it starts high on a mountainside. Anyone who's been high in the mountains knows that constant sound of snowmelt, flowing down into tributaries that give life to a vibrant ecosystem. You can't help but be inspired by the sounds of the water and wildlife against a backdrop of rich greenery.
Some of the best days of my life have been on the water—many of them on the Arkansas River in Colorado.
I was 9 years old when I first set foot in the Arkansas River basin. I grew up in Oklahoma, and my family spent the summers tent-camping our way to cooler climates. After that first summer, we returned to the Rockies every year, forming an unshakable connection to the Arkansas River.
Years later I was climbing Mount Harvard, literally working my way upstream in the headwaters of a tributary to the Arkansas River. I fell in love with that stream, and eventually purchased a cabin on a plot of land at its side.
My family grew up on that stream—swimming, rafting, and wading for miles through snowmelt in beat-up tennis shoes. It's been the backdrop to more holidays and celebrations than I can count: birthdays, Thanksgiving, reading the final book in the Harry Potter series. Most recently, I helped my 5-year-old grandson build a shelter of aspen sticks on the banks of "our" stream—it's been incredibly powerful to watch him forge his own connection to this place that means so much to me.
At REI, we often talk about the shift that is happening in society, with more and more people living in urban areas. Average Americans now spend 95 percent of their lives indoors. For future generations, we must change that. We all need our rivers and their life-giving moving water in our lives—now more than ever.
You can't deny the restorative power of being outdoors, and for me, being near a river. There's a marked change when you move into the presence of a river. The foliage, the sounds, and even the air changes as you feel the cool breeze blowing off the water. It's a physical, moving experience, and for me embodies the very best of what a life outside is all about.
That's why I'm introducing the next generation of my family to the outdoor spaces I care about, in the hopes that they will not only become better stewards of the planet, but more fulfilled, complete people—as I have.
Jerry Stritzke is REI's chief outdoorsman (and President and CEO). When he's not leading the Co-op, he's tackling a Colorado 14er, fly-fishing and whitewater kayaking the Arkansas Rivers, skiing the Rockies, or getting grubby on Pacific Northwest mountain bike singletracks.