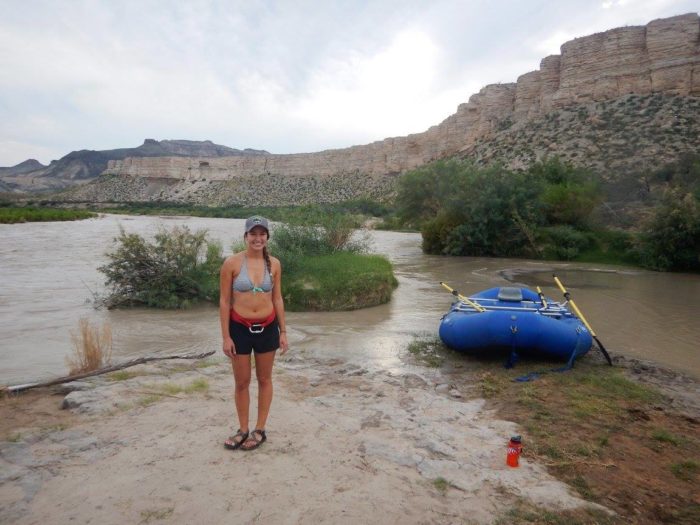 My story began in 2013. I felt "coerced" into participating in Outdoor Leadership School. My supervisor at the University of Texas Recreational Sports Outdoor Program had somewhat convinced and somewhat forced me into taking guide school my sophomore year of college. There were a few conceptual lessons, a 2 night stay on the San Marcos River to teach us white water rescues, canoe T-rescues and an assortment of other things. The last component was a 9 day trip in Big Bend – 14 hours of driving, 4 days of canoeing, 1 day of rappelling, 2 days of hiking, and 9 nights camping. Prior to this trip I had never camped for more than 2 nights so I was very nervous.
We canoed the 21 mile stretch of the Rio Grande through Santa Elena Canyon over a period of 5 days. At night it stayed between 24 and 29 degrees and during the day it did not get much warmer. Despite the cold, it was the most beautiful trip I'd ever been on. We endured challenges such as mild hypothermia, canoes tipping, cacti in feet, tiffs among the group, but we also enjoyed sunsets, braided each others hair as we sang together under the stars, made up songs around campfires, and canoed through one of the most magnificent canyons in the world. I swore I would come back one day.
Fast forward to August 2017. My boyfriend and I and a close friend of ours had heard that the Rio Grande was running close to a whopping 10,000 cfs. Compared to the normal 250-300 cfs we knew we had to jump on this opportunity, so that Monday we decided to spend our Labor Day weekend rafting. I was so pumped. Little did I know that the weekend would change my whole life.
We paddled the first 7 miles with very few rows on the ores due to how fast the river was flowing. We arrived at camp just before sunset and hiked up a cliff overlooking the entrance of Santa Elena Canyon and the river. I sat down on the edge to take in the views while our friend snapped photos of the landscape on my camera. My boyfriend sneakily came up behind me to massage my shoulders with me blissfully oblivious to his motives. As I stood up, he stayed down on one knee and asked me to spend the rest of my life with him!
The next day we flew through the rest of the river, stopping in small alcoves or caves for an occasional brew. The largest, most technical rapid on the river was entirely covered by the water, creating a few fun roostertails to hit. I even got my first opportunity to steer an ore rig!
The stretch of Rio Grande through Santa Elena Canyon will forever be a special, spiritual place for me. I hope that it will be around forever- a place for people to create memories for eternity.