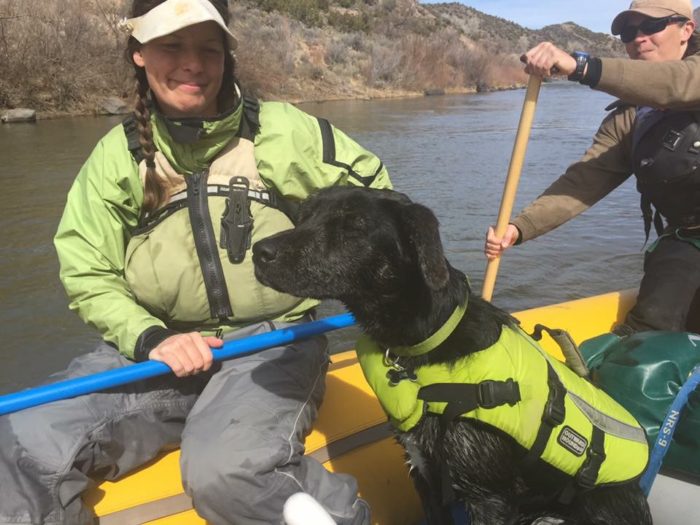 Five gals and four dogs head out for 3 days and two nights on one fantastically beautiful run. We had a long first day getting rigged and on our way. We stop for a quick lunch and are chowing down when we look up and see a wall of heavy rain headed right towards us. Shoving things back into coolers and containers while simultaneously trying to shove good in our mouths as we are over taken by the torrents of rain and wind.
We head back out in search for our campsite for the night. Finally we find a spot where as we pull out one gal and one dog hop to shore. As we are setting up camp we realize Evey is not around and we find her under a tree panting and looking very strange. We come to the conclusion she had been bitten by a rattlesnake. We keep her hydrated and do not mess with her leg that has become very large. She made it through the night and in the morning we were feeding her watermelon and Lox. Still a little out of it but she was going to make it. We decided we need to finish that trip on the second day to get her to a vet. We loaded up had an awesome paco pad bed for her in which she happily hoped onto.
This river is majestic and is a must do. Not very difficult but the two distinct canyons will not fail to impress. We stopped for lunch while Evey just kept her leg in the cool river water. We pulled off packed up and were to the vets by 8 pm. This is my most memorable trip because us five badass women took on the elements and adversity without skipping a beat and still managed to have an epic time.